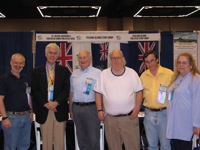 PISG Officers Past and Present
at StampShow 2007 in Portland, Oregon.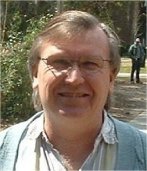 President: Vernon N. Kisling, Jr. - vkisling(at)ufl.edu

Dr. Vernon Kisling is the past Chair of the Marston Science Library at the University of Florida (and University Librarian for environmental sciences and history of science). Previously a Curator at the Atlanta and Miami zoos and President/Owner of Wildlife Publications, Inc., Vernon has done wildlife ecology research in Papua New Guinea and Chile. Editor (and author of two chapters) of Zoo and Aquarium History: Ancient Animal Collections to Zoological Gardens, as well as numerous professional and philatelic journal articles, he has an MS in wildlife biology, MLS in library studies, and DPA in public administration.
In addition to Pitcairn Islands (began corresponding to Roy Clark in the 1960s), Vernon collects first and earliest wildlife issues (worldwide 1840-1969), as well as zoo and aquarium issues. Vernon is currently the editor of the The Pitcairn Islands Specialized Stamp Catalog, the Index to the Florida Postal History Society Journal, and the Index to the Pitcairn Log.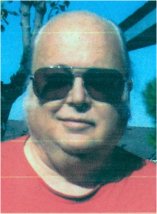 Steve has been a member of PISG for about 15 years. He is also a member of the APS as well as a number of other groups, mainly Polar and Pacific. As a retired (semi) teacher he now has some time to devote to my favorite island-Pitcairn. While teaching Steve found that he needed a creative outlet and so began writing for the general philatelic press. Luckily, the editors (and some collectors) seemed to like what he wrote, so he continued.

Right now Steve lives with his long-suffering wife of 30-odd years, two dogs and either two or three cats depending on who's dropping in in the smog-choking, tule fog infested, heat cauldron of the Central Valley of California.
Temporary Secretary & Treasurer: Vernon N. Kisling, Jr - vkisling(at)ufl.edu

Our previous Secretary & Treasurer, Barbara Kuchau, unexpectedly passed away on October 11th, 2016.
The current PISG President, Dr. Vernon Kisling, will temporarily take over the positions. All membership and financial information should go to the President until our elections in 2017.


Ron previously served as a PISG Director from 1987 to 2007 and lives on Norfolk Island.
Howard was appointed to take over Barbara Kuchau's seat when she became Treasurer.
Gerard is the newest member of the PISG Board of Directors.
A PISG member since 1980, Ted has been fascinated by Pitcairn Island and the Bounty saga since the early 1960s when, as a young teenager growing up in Coos Bay, Oregon, he read the Bounty Trilogy and began collecting Pitcairn Islands stamps. He feels lucky to have been able to visit Pitcairn in 2000, 2002 and 2003. Ted has written various articles for the Pitcairn Log and is currently compiling a monograph entitled Pitcairn Island and the Bounty Saga - Institutions and Monuments: A Worldwide List of Related Museums, Libraries, Archives, Churches and Monuments. He has enjoyed helping to man the PISG society table at the Washington 2006 World Philatelic Exhibition and every annual APS StampShow from 2007 to 2012.

An expatriate for over 30 years, Ted managed a travel agency in Cairo, Egypt from 1988-2013. Prior to his travel career he worked as a commercial banker in New York City and Riyadh, Saudi Arabia.